Heather Dutton - Hang Tight Studio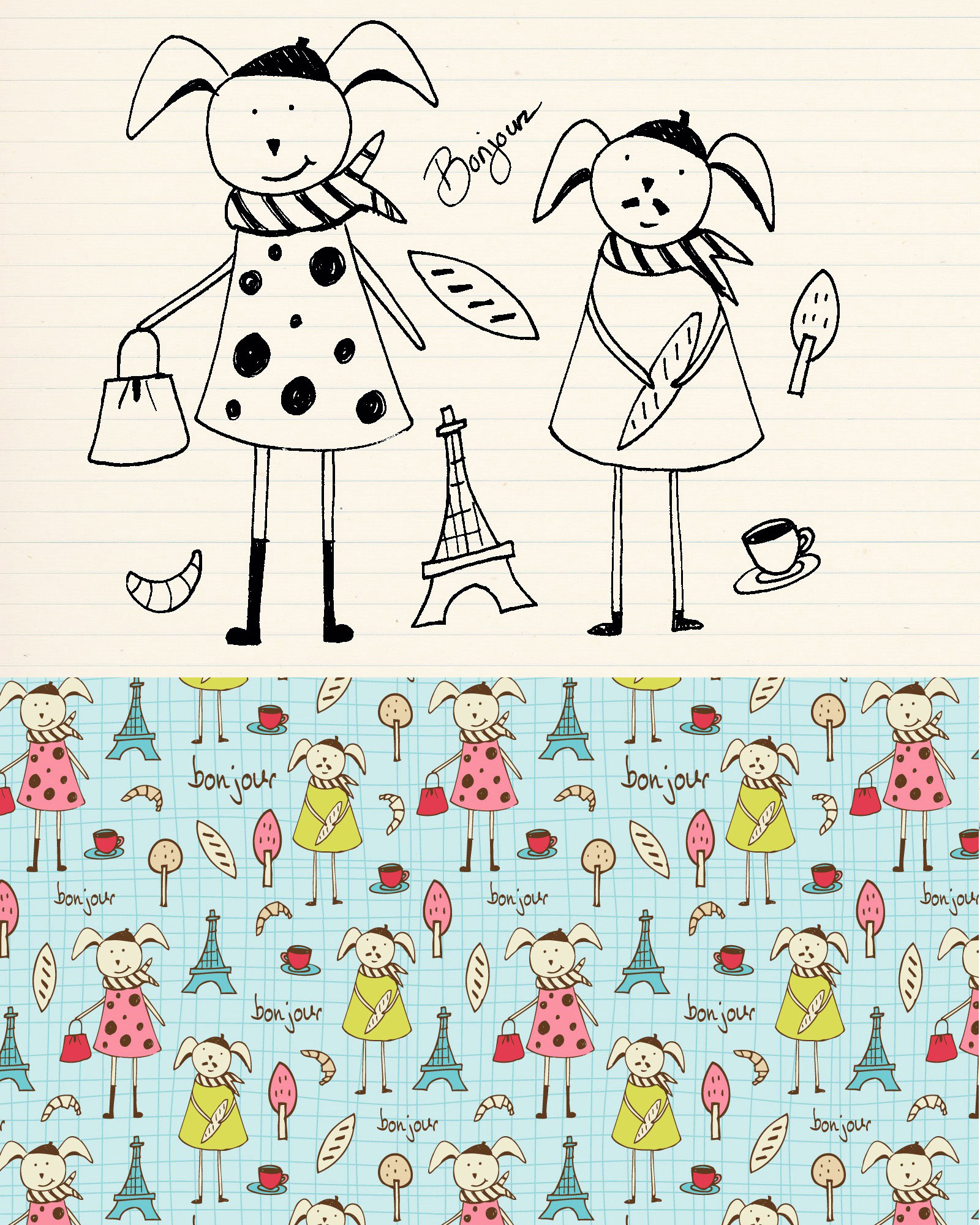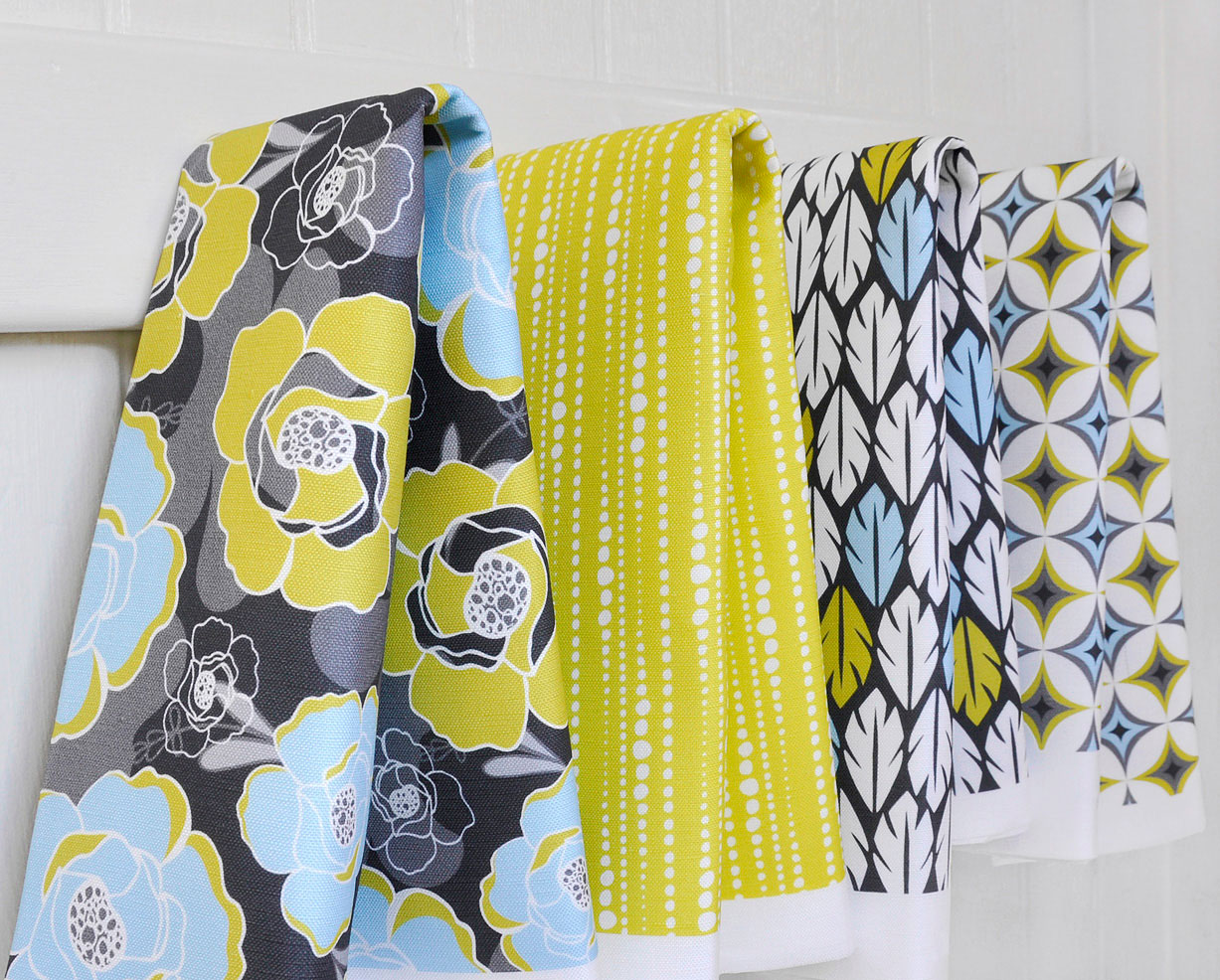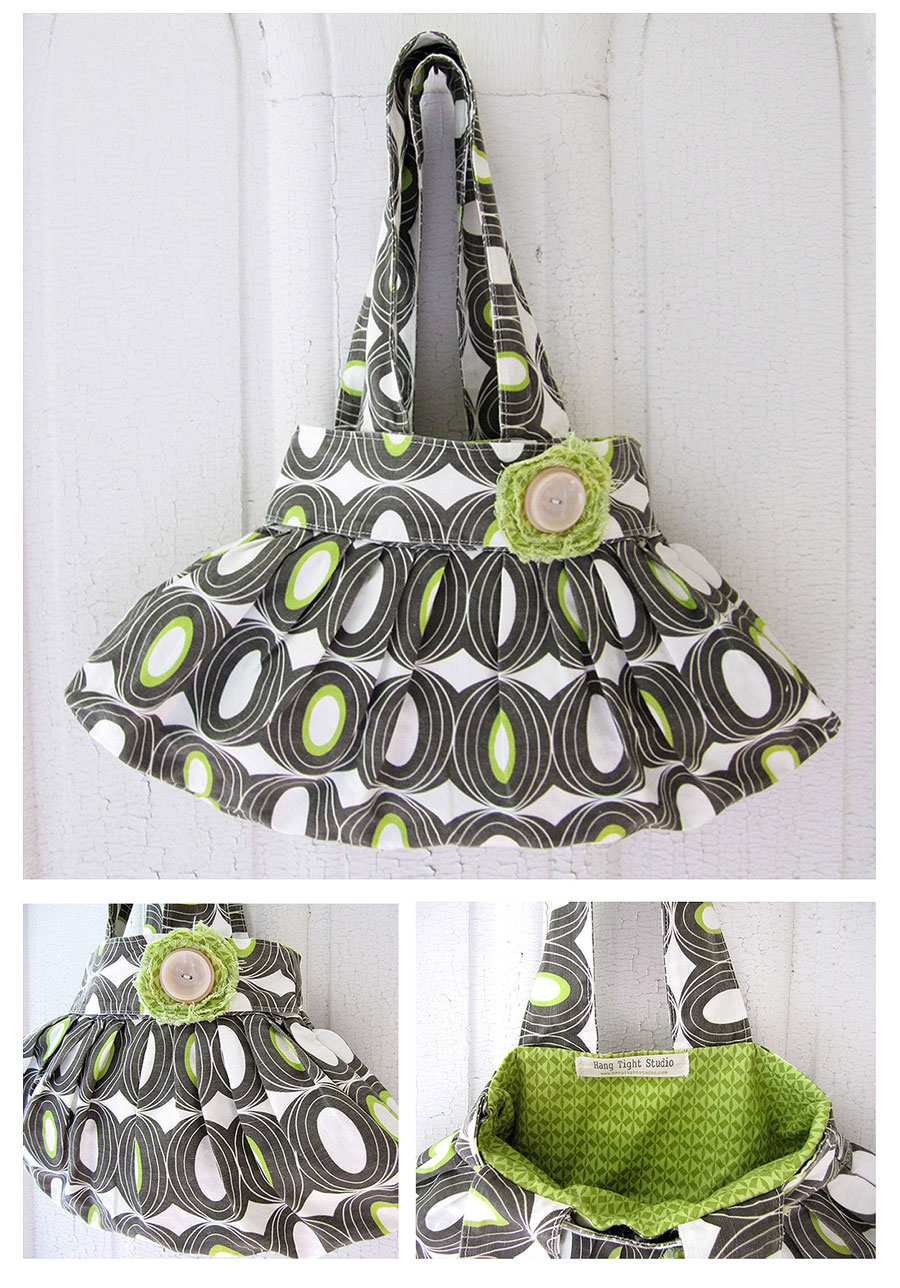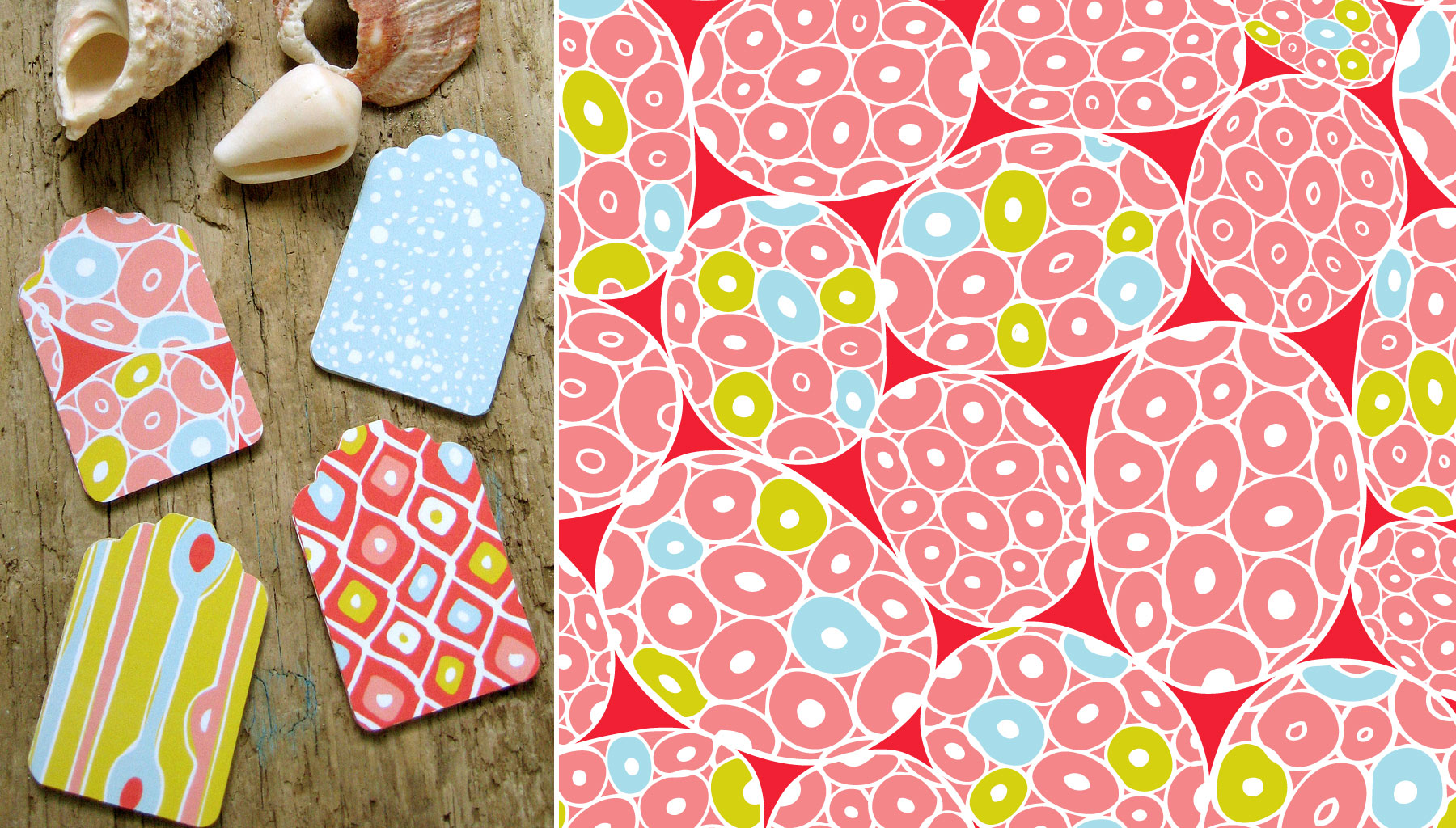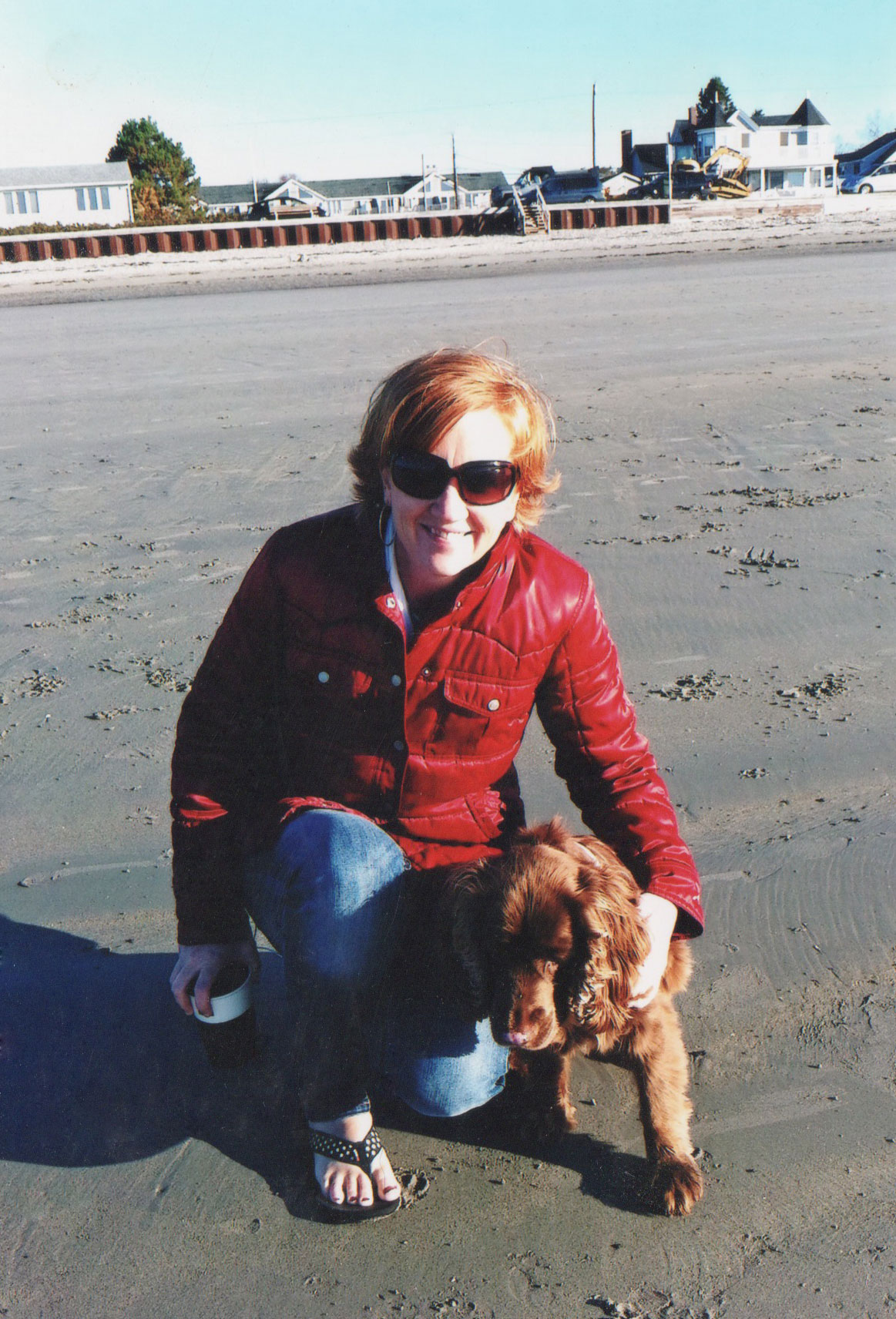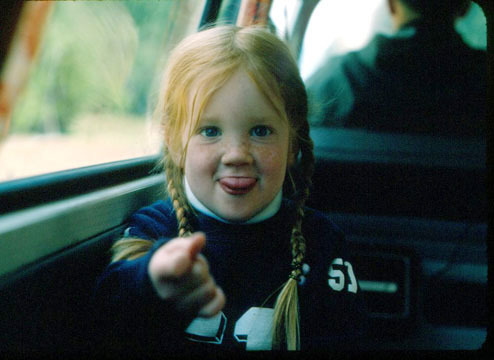 We found the lovely surface designer, Heather Dutton, through one of this month's artists, Lucinda Snyder. Heather and Lucinda have recently collaborated on a line of fabrics that will be used exclusively on Lucend's fall inventory. When we first started working with Lucinda and batting around ideas on how to customize one of her clutches for Little Yellow Couch, she suggested we use one of her new fabrics but in a totally different colorway. We loved the idea and so Lucinda brought Heather in on the project. Heather is a very talented designer and, in keeping with our theme this month, we are very pleased to introduce you to her.
How or why did you get started doing what you do?
Since I was about 12 years old I dreamt of being a fashion designer. I had sketchbooks filled with magazine clippings that I pasted into the pages, countless doodles of different designs that I'd created and an unwavering confidence that fashion design was going to be my career. When it came time to go to college I followed my dream, studied fashion design at the Savannah College of Art & Design and moved out to San Francisco after graduation to take on the design world. Ha! Ha! My time in the fashion industry was a wild ride filled with trips to corners of the world I never thought I'd see and invaluable insight into the production end of the business but at the end of the day I felt like something was missing. I was more excited about the fabrics & prints that I was working with than I was designing the actual clothes so I slowly started to shift the direction of my career. I was crazy lucky to land a job that allowed me to design clothes AND some of the prints that were used on them and that's all it took… I was hooked! A few years later I took a huge leap of faith, left the regular working world and started my own surface design business (Hang Tight Studio). That was over 13 years ago and I can honestly say that I giggle & pinch myself that I get to draw & create every day!
What's your favorite part of running your business?
I work with a really wide variety of clients designing everything from vintage inspired graphics to fun whimsical prints for kids… sometimes simultaneously. I think one of the coolest parts of my "job" is that diversity. I love it! I'm constantly being challenged creatively and every day brings something new.
Do you have other creative endeavors that aren't part of your business?
I might have left the world of fashion design as a career but I still love to sew! My technical skills definitely got a bit rusty over the years but that doesn't stop me. I'm constantly whipping up creations for myself, my house and my friends & family. I love turning a flat piece of fabric into something you can use or wear and don't even get me started on how cool it is to be able to make something out of fabric that I've designed!!!
What's your favorite object in your home?
Ooohh… that's a toughie. I guess I'd have to say my treasured find is the vintage Wolf dress form I scored at an antique auction a few years ago. Since design school I've collected a funky mix of cool dress forms that I have scattered around my house but I'd been on the hunt for a Wolf for years. I actually squealed when I won the bid at the auction and knew that she was coming home with me.
What's your favorite dish to serve your friends?
I love to cook and lately my brother & I have been on a shared quest to perfect the ultimate homemade pizza. We're constantly sending each other new dough & sauce recipes or different tips we've read about for creating authentic Napoleon style pizza. A lot of my friends have a gluten free diet but whenever I get the chance to make a pizza for one of them I jump at the opportunity.
What's the best music to listen to during a cocktail party?
Oooh… Anything retro, swing or bluesy… Like "Put a lid on it" by the Squirrel Nut Zippers, "Big Bad Handsome Man" by Imelda May, or "Swannee River Rock" by Ray Charles. I was totally born in the wrong era! Ha!
What's your favorite thing to wear that's hanging in your closet?
I have this incredible vintage wool coat from the 40's that makes me giddy. It's part cape, part coat with a really high collar & pale pink lining. Swoon! I'm a pretty casual girl so I don't get to wear it that often but when I do I'm grinning from ear to ear.
What's your favorite piece of jewelry?
I'm a bit of a minimalist when it comes to jewelry but I'm a sucker for a nice chunky ring. Right now my favorite is a cool bright orange fused glass & silver ring by Coco Corral (lovinganvil.com) that I got for Christmas last year.
What's your favorite vacation spot?
Do I have to pick just one? He! He! I love to travel and I've been lucky enough to go on some pretty amazing trips with my mom & my Aunt ("the travelin' girls"). A few years ago we traveled around Spain & Portugal and I have to say one of the most memorable spots for me was the Algarve Coast (Portugal). The aquamarine waters & golden sculptural rock formations were mind blowing.
What's your favorite city in the world?
There are so many cool cities around the world it's tough to pick just one… but if you twisted my arm and made me choose I think I'd have to say Paris. I could eat myself into oblivion, get lost in all the fabulous streets & architecture and lose weeks visiting all of the museums. Ahh… Paris!
What's your favorite era in history?
Without a doubt I'd have to say the Roaring Twenties!! The clothes were amazing, the music was to die for, the cars were insanely cool and I love all the slang terms from the era… like "she's the bees knees" or "he's the cat's pajamas". It's brilliant! I'm convinced that I lived in that era in a past life. If the ability to time travel ever comes about I know where I'm going first.
What's your favorite book or movie?
I'm a huge movie buff! It's always hard to pick a favorite because my taste varies quite a bit based on my mood but one movie I never get tired of watching is the 1998 version of Great Expectations with Ethan Hawke, Gwyneth Paltrow & Anne Bancroft. It's tragic, romantic and the entire movie is subtly filled with the color green… which happens to be my favorite color. If you haven't seen it… add it to your netflix queue right away!
Do you have a tradition, ritual or yearly activity that you love?
Since I was a kid we always went out & cut down our own Christmas tree instead of buying a pre-cut one. I loved bundling up, walking through the woods of the tree farm hunting for just the right one & bringing it home to decorate. When I moved to San Francisco I was determined to continue the tradition and I miraculously found a cut-your-own tree farm down the coast in Half Moon Bay. I'd drive down the coast every winter with my best friends & we'd make a day out of cutting down our trees. Now that I'm back in Maine there are a handful of incredible cut-your-own tree farms right by my house. Every December it's a tradition to go hunt for the perfect tree, come home, pop in the old claymation Rudolph movie and decorate. I'm a sucker for the holidays!
When do you feel most connected to other people, your work, your life, etc?
Juggling all of the aspects of running your own business can be a bit manic sometimes… putting in long hours, working a lot of weekends and wearing a lot of hats. After I've had my morning coffee & checked my emails I step away from the studio for about an hour & I go for a walk on the beach with my sweet Sussex Spaniel Emma Jean. This is my favorite time of the day… just me & my fuzzy girl, some great music & an unbeatable view. All of the mania, deadlines & to do lists vanish. I feel completely connected to my life and am extremely grateful.
What are your visions for your business over the next several years?
My business has shifted and changed in ways I never would have predicted over the last 13 years. One of the new avenues I've dipped my toe into lately has been the world of licensing. I've been designing prints & graphics for clients for years but my name has never been attached to them. I've been the girl behind the curtain so to speak. It's been really exciting to step out of the shadows and see my name next to my designs. It's opened up a whole new world to me creatively and I can't wait to explore it even further.