Welcome
For our inaugural month, we're focusing on introductions. We are Karen June and Zandra and we're very pleased to meet you! We're ridiculously excited about our new venture and hope that comes through in everything we put out into the world. Our goal this month is to encourage you to introduce whatever it is you're passionate about into your personal style, your home and your connections with other people. So hello, let's get started, and welcome to our Little Yellow Couch…
Introducing our first box of limited edition, handmade items, created exclusively for Little Yellow Couch. This month's theme is simply "Pleased to Meet You" and we've worked with three artisans on items that we feel make a great first impression.
This necklace from La Bonne Vie designs hits the perfect balance between making a statement and not taking itself too seriously. Its substantial size means that you're not shying away from introducing yourself but its soft cloth and hand-rolled flowers give it a casual vibe. The artisan, Marlene Debeljak, has used an exclusive fabric for us (she chose the yellow in celebration of our new business!) and we love how she incorporates one-of-a-kind vintage costume jewelry into each piece. If you've never been so bold in your accessories, this is a great place to start: not over-the-top but still impressive. If you're avid collector of statement jewelry this is a piece you'll wear all the time, fitting seamlessly into your style.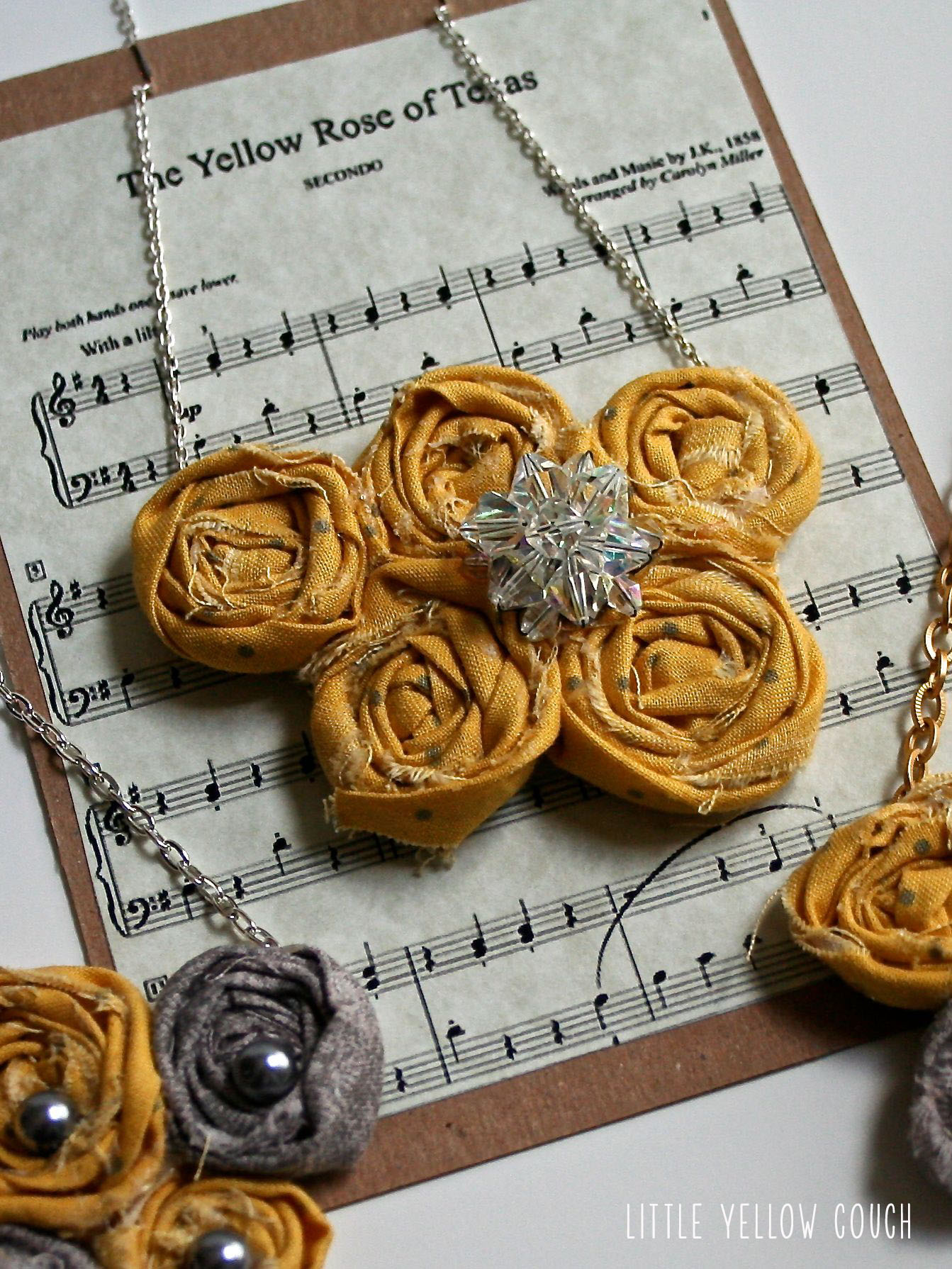 You're first drawn to this happy clutch by its geometric print. But then you really start to adore it when you see all of the attention to detail that's gone into the style. An original design by Lucinda Snyder of Lucends, this little purse features pleating that we love, a shape that fits beautifully into your hand, and a little extra gold or silver touch on the wristlet that makes you feel like you're wearing a bit of jewelry. Lucinda worked with fabric designer Heather Dutton on this particular pattern, which Lucinda is debuting with her own products this fall. For Little Yellow Couch, Lucinda and Heather came together again to try out some new colorways. We're thrilled to have both of their talents on this piece, making it a very exclusive item for us and a sweet deal for you!
We imagine this precious bowl to be the perfect vessel to hold your little pieces of jewelry on your nightstand or vanity. It may not be the first thing someone sees when they walk into your house….in fact, you may be the one who appreciates the most if it's part of your boudoir (and, really, who doesn't have a boudoir that needs accessorizing)? But giving yourself a little luxury…incorporating just a hint of glam into your bedroom…it reminds you that impressing yourself is sometimes more gratifying than making an impression on others. Crafted by Susan Dwyer, owner of Up In The Air Somewhere in Chicago, the bowl is incredibly light because it's made of paper. But the delicate feel is just right for rings or jewelry. Susan has chosen an exclusive color combination for Little Yellow Couch and we think the best way to describe the light gray exterior with the metallic gold interior and rim is to cal it "grounded elegance." Wouldn't you agree?