Meet the Artists: Liz Frazier, Witch City Wicks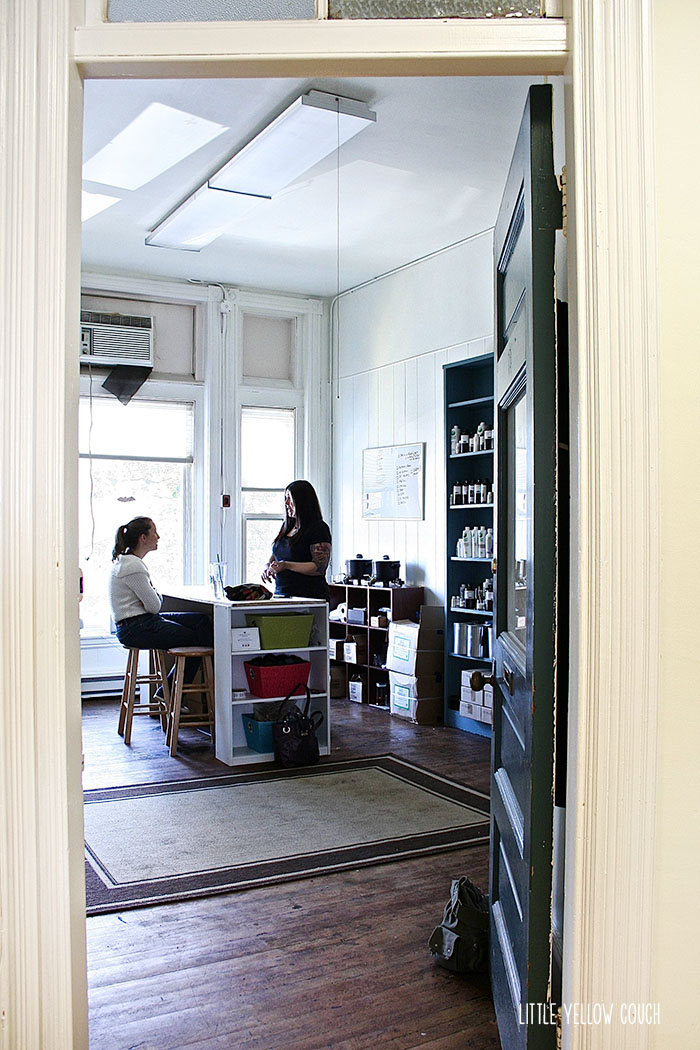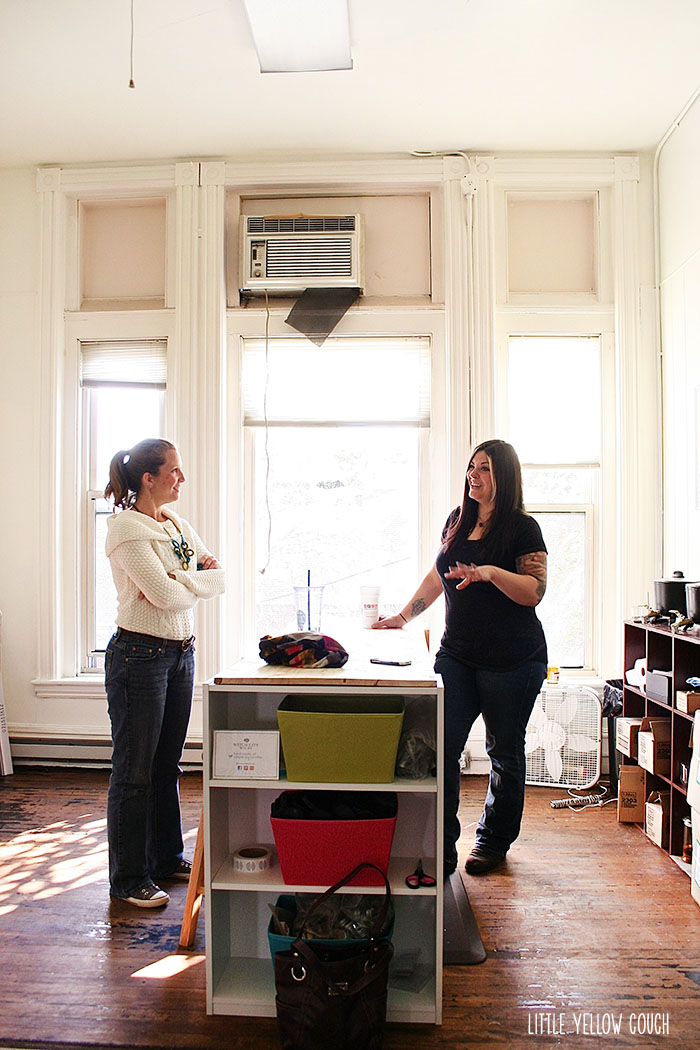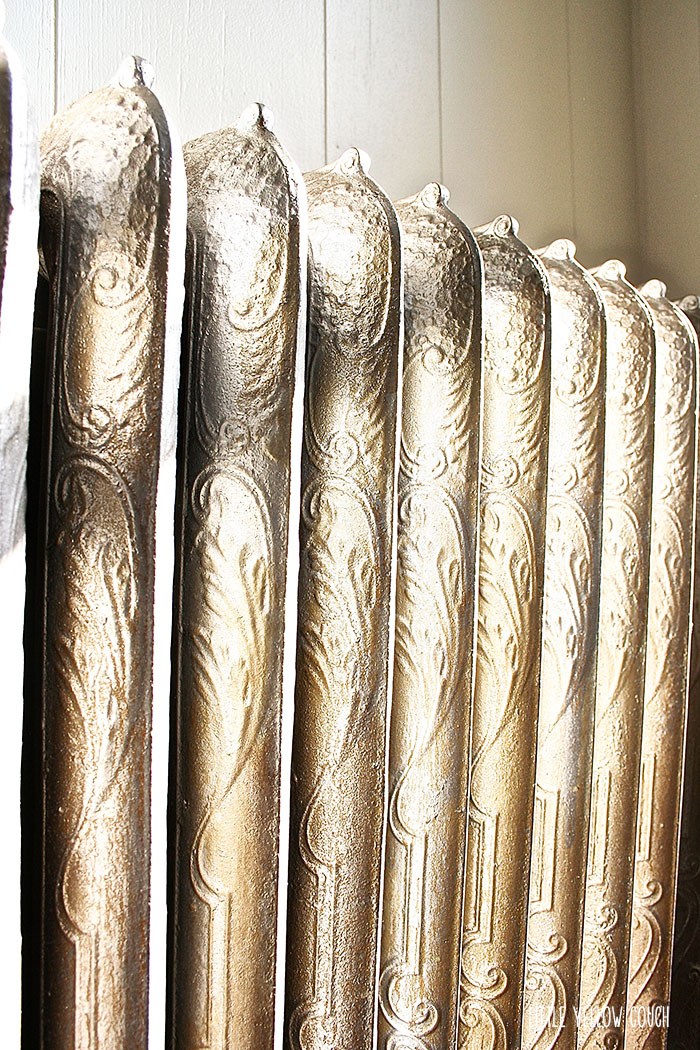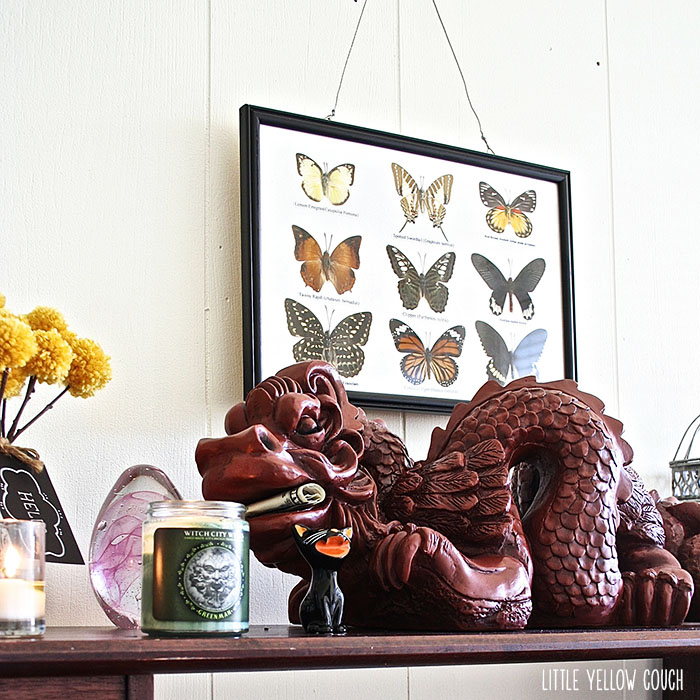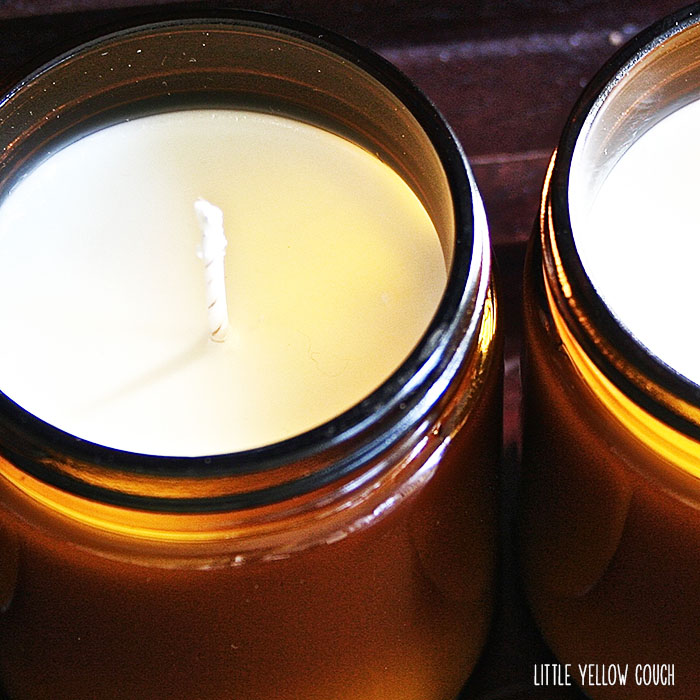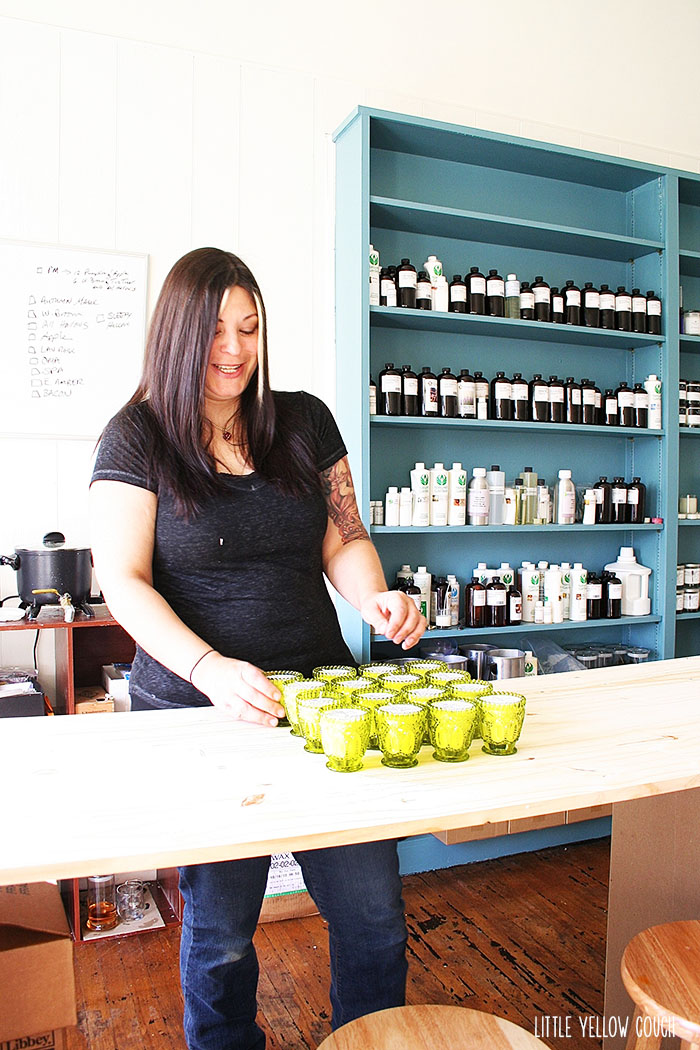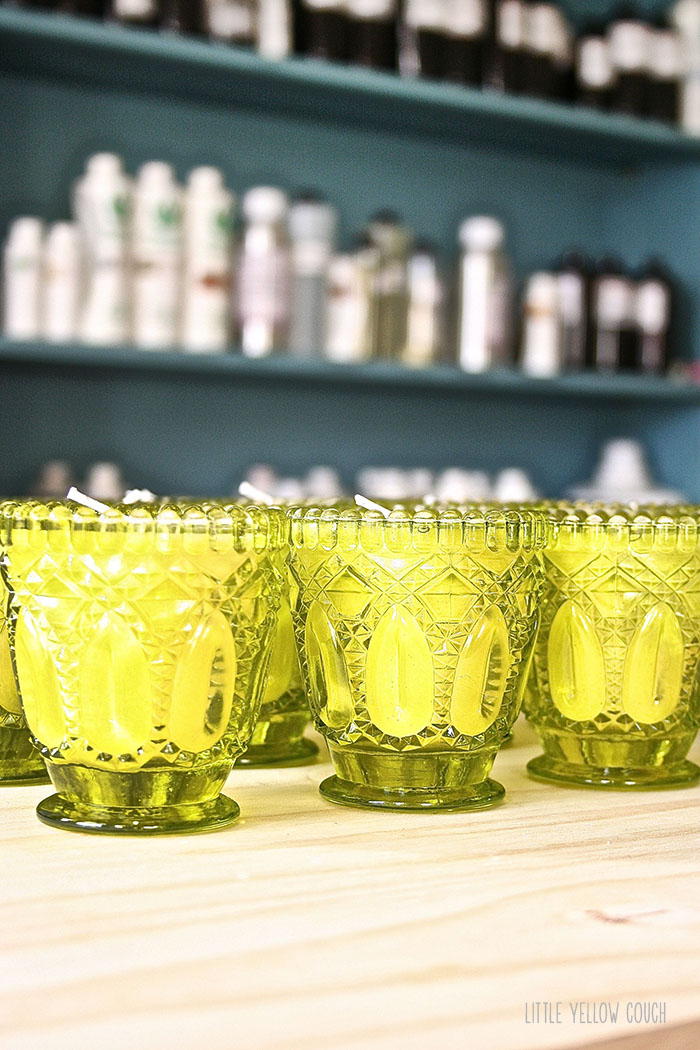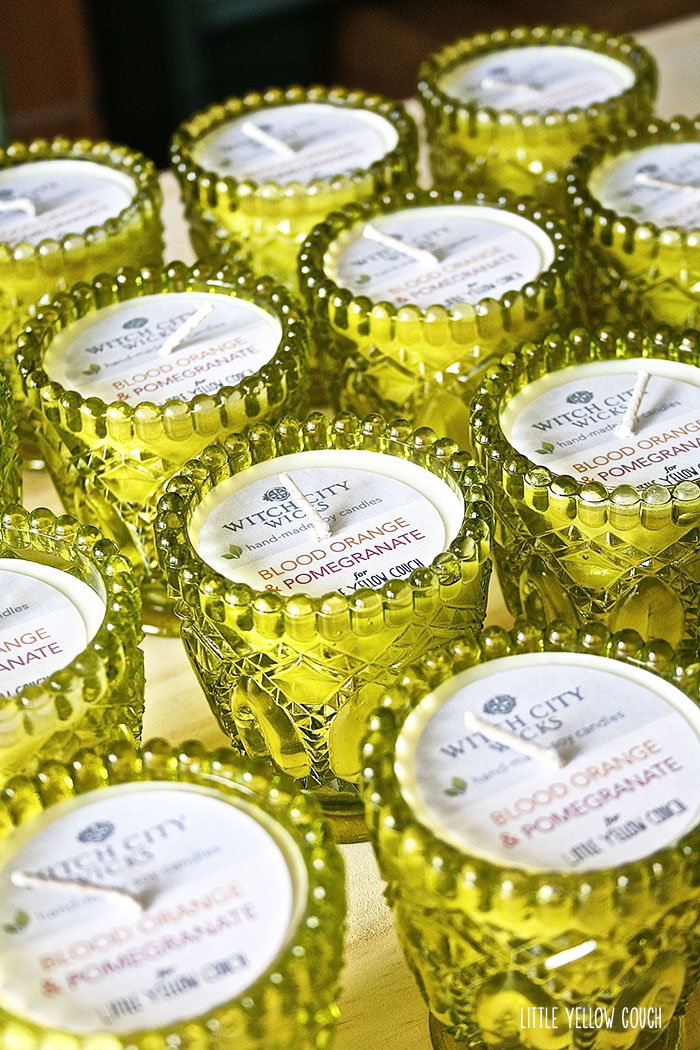 We had the pleasure of visiting Liz Frazier in her studio last month. Walking up the stairs, we could start to smell the bright, fresh, alluring scents emanating from her space. We spent the first part of our interview just going from jar to jar, opening each candle, delighted by the distinct memory or mood they provoked in us. We had a great time talking with her about her life and work in historic Salem, MA.
Little Yellow Couch: How did you get from graphic design to candle making?
Liz Frazier: For 10 years I did art direction for two different ad agencies. When layoffs started, my whole department was axed. I had recently had my first daughter and a few months later, found out I was pregnant again, so it seemed like a positive move to stop working full-time. And then getting into candle making was sort of a whim. We always burn a lot of candles, all year round, and I wondered if I could make them myself. I started experimenting with pouring and then with essential oils and gave some away as gifts. Friends started encouraging me to sell them and it's grown from there. Soon I realized that the candle holder was as important as the scent because you're incorporating the jars into your home décor. I wanted jars that were attractive and labels that you wouldn't want to peel off. So, with my background in graphic design, I started to create labels that reflected the aesthetic of the various lines I was producing. I first started selling my candles at a goth night club and so I figured my black candle line and some of my goth labels would sell there and I was right!
LYC: We love your "Black" collection, both the complex scents and the black color of the candles.
LF: Yes, I'm really happy with them. Soy wax is tough with color so it's tricky to make the black ones. They can do this thing called "frosting" where little bubbles coat the surface and make them discolored. And they also don't do well in the sun so you wouldn't want to keep them in the windows. They're a little high maintenance…
LYC: Yes, but they're so cool!
LF: Yeah! And except for the black candles, I'm going completely dye free.
LYC: We really like just the white and black candles. The white accentuates the all- natural composition of the candle. Colors usually look a bit fake and it makes you wonder if the scent is going to smell fake…
LF: Right. I've gotten a lot of positive response from the dye-free. It's mostly the shop owners that want colors, I think because the color looks good on their shelves. So I'm going to incorporate color into my labels and hopefully that will satisfy that need.
LYC: So, your business is called Witch City Wicks, in celebration of your adopted home town. What brought you to Salem?
LF: I've always wanted to be here. From the first time I visited, I found it enchanting! And my job was closer to here than where I was living in Boston. So when my roommates all dispersed I thought I could try Salem and I fell in love with it, as I knew I would. Eventually my boyfriend, who is now my husband, came around to the idea. By the time he moved here he was totally on board. And now, my children live in an amazing place where they're surrounded by history and culture and magic!
LYC: So do you live right in town?
LF: Yes, and we have a really old home, full of character. It was built in 1817 and at various points it was an oyster house, a boarding house and a pub. We still have a bit of the original bar. One funny thing, though: our gas meters aren't on our property, they're around the corner in a shop. Our building was part of a larger building that took up the whole block. That took a little while to figure out. Now the owner of a magic shop has to open up for us when we need to access it.
LYC: How is it being both an entrepreneur and a mom?
LF: It's been important to me that I give my daughters a rich and loving home and my priorities for them are to become good, kind people who aren't doormats. But my husband and I also have made sure we haven't lost our personalities and interests since becoming parents. We want our kids to know who we are, what we're passionate about, and to be role models of what living a happy, authentic life can be like. I'm struggling this month [October} because it's busier than ever. I'm selling every weekend b/c this is the busiest retail month in Salem but my online orders are also piling up and my kids definitely miss me. My youngest daughter isn't feeling well today and all she wants to do is fall asleep on my lap. But I really have to be here in the studio. So this weekend is my last big weekend and then I'm all theirs. We have the whole week of Halloween off. My husband is off and the kids are out of school.
LYC: The whole week of Halloween is treated like a holiday?
LF: Yep. It's a Salem thing.
LYC: You've created a custom scent for us based on our theme this month, which is "Cozy." What do you do to be cozy?
LF: Oh, we love cozy! Our whole downstairs is brick and we have an enormous fireplace. The hearth is big enough to sit on and when we have people over, they often choose to sit there with a drink. We make autumn style, warm drinks, and fall is when we really put a lot of planning into our meals, making a day of it…cooking and sitting by the fire all day long. The kids run around and then curl up with us on the couch. That's pretty much our activities for all of fall and winter!
LYC: Sounds perfect! We're looking forward to lighting one of your candles and curling up with a good book. Thank you, Liz!