Meet the Artist: Mara Minuzzo, Studio Liscious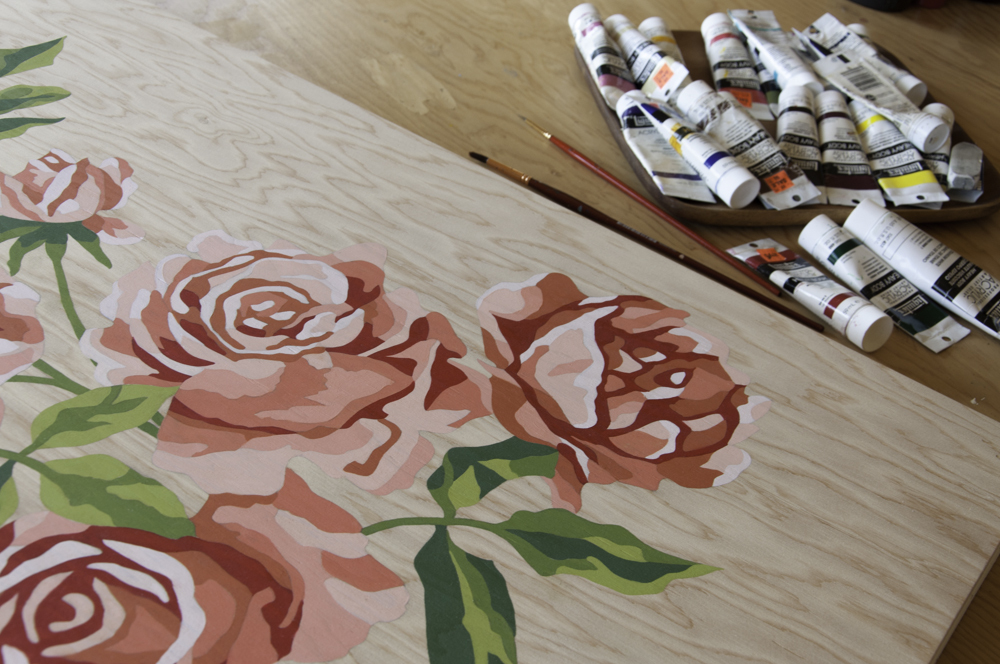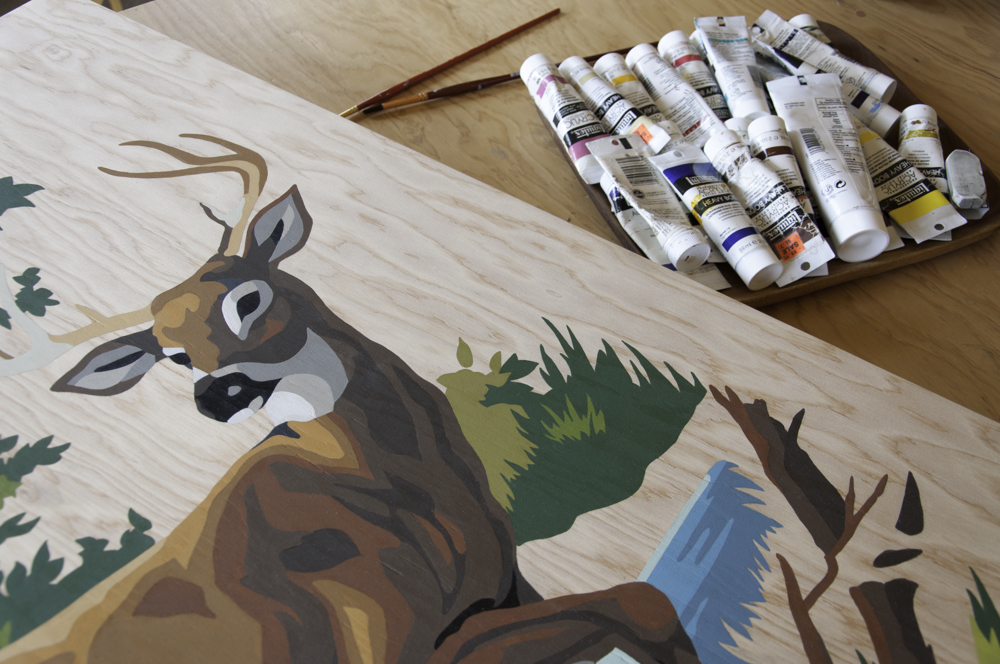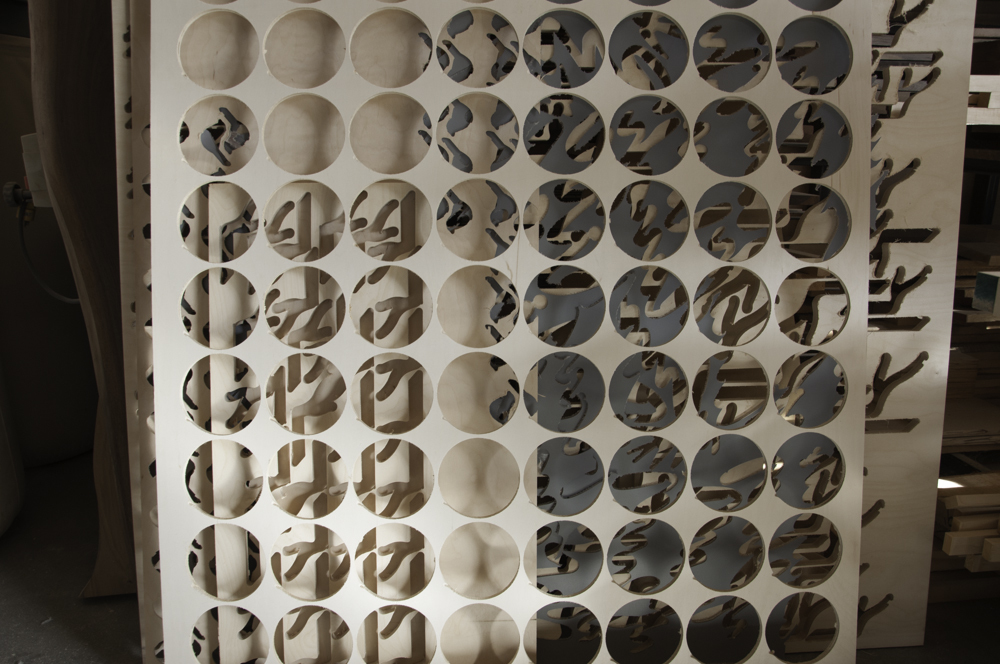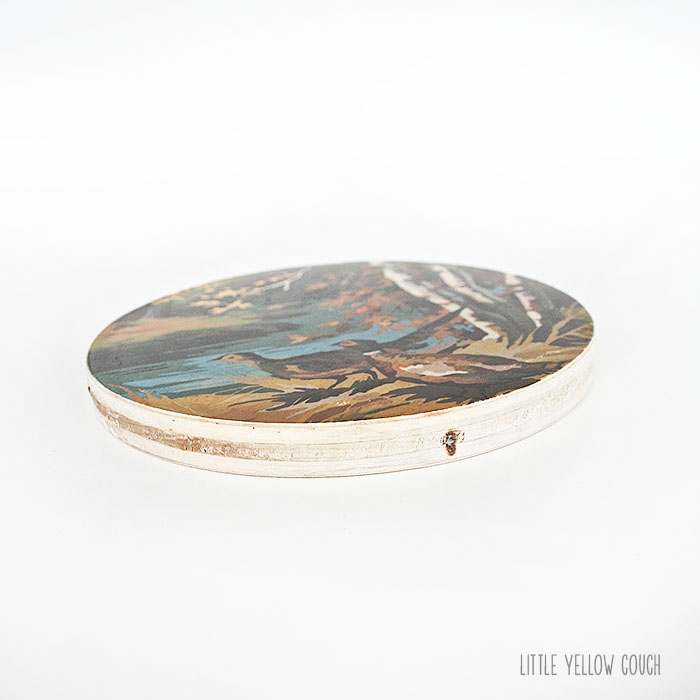 Little Yellow Couch: Tell us about what you're currently focused on in your work. What's exciting you right now when you sit in front of a canvas; is there some source that's particularly inspiring right now; what's challenging you?
Mara Minuzzo: Besides keeping up with ongoing orders from our Etsy shop, we're currently focusing on translating some of the more popular paint by number imagery from our image transfer art blocks for use on fabric. The capability of being able to digitally print on fabric using our own professional inkjet printers opens up a world of possibilities. I'm particularly excited about it because my background is in fashion design and I've missed working with fabrics over the last few years during which we were focused primarily on wood and acrylic materials. I've been working on some large format paintings on wood of a select few paint by number images that I want to be able to reproduce in large scale as well as small scale on fabric. I'm intentionally leaving areas of raw wood grain because I love the look and illusion of it when printed on fabric. It's also a nice tie-in to our many wood-based products. My first is a vintage floral image, which so far I've translated into small zippered pouches, but I'm looking forward to going big with this imagery for a yet to be revealed new product idea I have. Our biggest challenge in general with our work is finding the time to develop and launch the many new product ideas that we're excited about, but keep having to put off for lack of time.
LYC: What's it like living in Ontario, working with your partner and and working in your new studio space?
MM: We were both born and raised in Ontario, and although we now live in the countryside northwest of Toronto, we enjoy the proximity to such a large, metropolitan city that is clean , safe and full of diversity. We are lucky enough to own property in a beautiful area and were able to move out of a rented commercial space when we constructed our own studio/workshop on our land. Working together every day means we spend almost all our time together, which can be both good and not so good. The biggest challenge is that it can be hard to separate work from your private life, because we are both so invested in our business and pretty much talk and think about 'work' all the time. Our new studio workshop is pretty luxurious compared to the rented cinder block industrial spaces we've occupied in the past. Because we designed and built it ourselves, we were able to afford large windows and glass doors in order give the rooms a lot of natural light. We also installed pale birch plywood for all the walls and ceilings instead of drywall, which gives the space a lot of visual warmth. So it is a beautiful and comfortable space to work in.
LYC: Each month, we use a theme to direct our daily blog posts, DIYs, events and the discussions we have with artists. Our theme for this month is "cozy." How do you and your family respond to the cooler weather and what do you do to keep cozy up north?
MM: The cooler weather has recently arrived here and we've started using our fireplace again. When we built our house we went out of our way to install a real wood burning fireplace (apparently this is not very common anymore) and have never regretted it. There's nothing like the smell, sound and warmth of sitting in front of a crackling fire. Besides using our fireplace to keep cozy, we retrofitted our house's heating system to geothermal heating about 4 years ago, which keeps us warm and comfortable throughout the colder months. The new studio has my dream heating system though, with radiant floor heating imbedded in the polished concrete. Patrick designed and installed the system himself for a fraction of the usual cost – he's very multi-talented and is good at figuring out how to do things he may not have any previous experience with.
LYC: What direction would you like to take your business and/or artwork in the coming year?
MM: In the coming year we hope to continue growing and improving our Etsy shop with the new designs and product ideas we are most excited about.
Check out our "Cozy" Box for Studio Liscious's exclusive design for Little Yellow Couch.