Meet the Artist: Elissa Starosto, E. Star Knits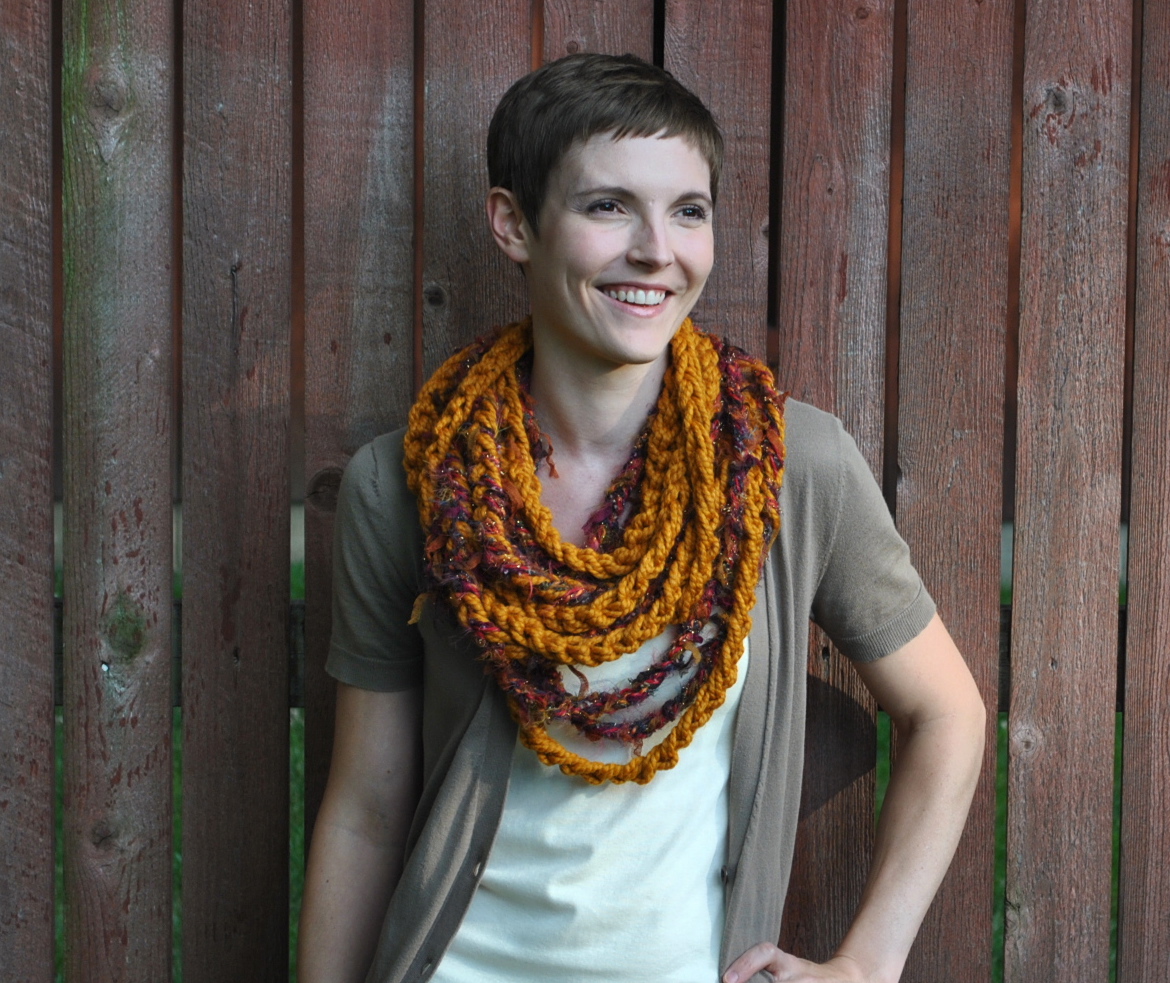 When seeking out artists to work with this month, we initially thought we'd find someone who made cowls or scarves to fit our "cozy" theme. Elissa Starosto does make these beautiful items but we were really drawn to her jewelry line that incorporates yarn with metal. We love offering an item that resonates with our theme but is still unexpected! Zandra had the pleasure of interviewing Elissa over the phone from her home in Akron, OH.
Little Yellow Couch: Elissa, you know how much we adore your jewelry and knitwear. You must love being cozy! How does that play out in your home?
Elissa Starosto: My husband and I really sink into the cold weather months. We spend as much time as possible, sitting on the couch, snuggling with our 2 year old son. That's also where I do a lot of my knitting, with a cup of tea and a blanket.
LYC: This must be a busy time of year for you, with everyone looking to wrap up in cozy things!
ES: Well, I'm trying to get ahead of myself so that I'm not stressed out by lots of orders. I like to have time to make a lot of socks for friends and family and I'm working on 2014 designs for my cowls.
LYC: It always impresses us when an artist/entrepreneur is organized enough to be working ahead! It's something we haven't mastered yet! Tell us more about your upcoming designs.
ES: Each year I try to add another dimension or a new stitch to my designs. I'm very much in favor of learning something new as often as possible. I started the business with very simple designs but all of my growth has come because I want to learn new things, which really gives me a lot of pleasure.
LYC: Why did you choose yarn as your primary medium?
ES: I've always been fascinated by yarn. When I was little I remember thinking it was magical: "how does that (strand of yarn) turn into…THAT!?," some wonderful piece of clothing or whatever. And I'm still kind of amazed at what comes out of a knitting project. I also want to make things that people can wear everyday. I want to look stylish and feel comfortable. And I think knitting lends itself to that.
LYC: How did you start combining yarn and metal to make jewelry?
ES: Well, I had been daydreaming and an image of a necklace popped into my mind. I looked around Etsy to see if anyone was making something like it. Even though there is jewelry that uses knitting or crochet, none of it matched what I had in my mind. I was going for a particular look, an aesthetic. So, not being able to find it, I started making what I had envisioned.
LYC: And do you start with a specific colors and a design in mind or do you find the yarns first and then figure out how to combine them?
ES: For the necklaces, it starts with the chain. I find old chains, take them apart and mix them up again to combine something new. Sometimes I have to reshape the metal to get what I'm looking for. This part is fun, sort of like a puzzle. From there, I start thinking about what I want the main idea to be that's conveyed by the necklace. I ask myself where the yarn needs to be added to achieve that idea. Once I know what parts will be knitted, I start playing with color. It's different with the cowls. For those, I start with the yarn and I have a specific idea of what I want the shape to be. Every once in awhile, there are happy accidents when an original shape turns out to be kind of weird and then a whole new shape presents itself. I love when that happens!
LYC: What do you like best about your work and what is the most challenging aspects of running a business?
ES: I enjoy custom orders…
LYC: Really?! Lots of artists get frustrated with those requests!
ES: I know…but I like figuring out what people want, helping them realize what's in their minds and making it happen. I also like to find embellishments to add to a design. So for example, I love using buttons but I've had to go through three different distributors in the past couple of years for the large coconut ones I use on my cowls. It's hard to hunt down materials sometimes. I guess that's something I don't really enjoy about the business…the time it takes to do stuff that doesn't include the actual knitting! I've gotten good at estimating how much yarn I need to order though, which has helped save time. I can tell by the weight of a ball of yarn if there's enough to make a particular pattern of mine. That way, I don't have to guess if I have enough before I start.
LYC: You're a mom of a toddler and you're expecting another child this spring. How are you mixing in your business with your family?
ES: I'm very happy with where my business is right now because it allows me to be with my family quite a bit. I can do most of my work during nap time! I'd like to keep it at this pace until my kids are a bit older. It's perfect right now and I'm really grateful for that!
Purchase Elissa's beautiful necklace exclusively for Little Yellow Couch in our "Cozy" Box!